When did World War Two begin?
World War Two in Europe began on 3rd September 1939, when the Prime Minister of Britain, Neville Chamberlain, declared war on Germany. It involved many of the world's countries.
Children have created shelters and gas masks to show us what it looked like during World War 2. Some women were evacuated from the big cities into the countryside. People carried gas masks to protect themselves and built air raid shelters . All windows and doors were blacked out .
Children made a model of the aeroplane used in World War 2.
Why did the Second World War start?
The Second World War was started by Germany in an unprovoked attack on Poland. Britain and France declared war on Germany after Hitler had refused to abort his invasion of Poland.
When did World War Two end?
The War ended in the Summer of 1945. It is estimated that 50 million people lost their lives during World War 2.
In 1940, two million British men aged between 19 - 27 years, who were not working in 'reserved occupations', were ordered to fight. This was known as being "called up". They were trained and sent off to war.
Natural Disasters- Winter Term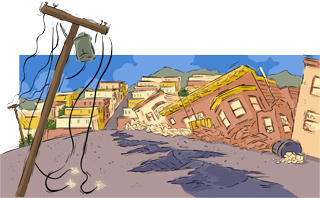 Earthquakes are the shaking, rolling or sudden shock of the earth's surface. Earthquakes happen along cracks (called fault lines) in the earth's surface. Earthquakes can be felt over large areas, although they usually last less than one minute. Earthquakes cannot be predicted — although scientists are working on it!
Children have been learning about natural disasters as volcanoes, earthquakes, hurricanes and tornadoes. They learn about the causes of the disasters and how to be prepared if you live in an area effected by these disasters.
Children made models of volcanoes using paper mache and different materials. They painted volcanoes to show real colours of magma.
Volcanoes
A volcano is a mountain that opens downward to a pool of molten, or melted, rock below the surface of the Earth. Unlike most mountains, which are pushed up from below, volcanoes are vents through which molten rock escapes to the Earth's surface.